PET Film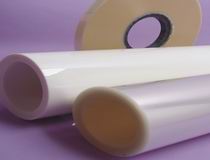 Description:
6021 PET Film, now we change 6021 into 6023D
It is used as slot, slot closure and phase insulation from thermal (class E) to thermal high (class H) stressed electrical motors or as interlayer insulation in dry transformer and other electrical machines and appliances.
Thickness: 0.125mm, 0.15mm, 0.188mm, 0.20mm
0.25mm, 0.30mm, 0.35mm
Standard width: 1000mm ( we also can cut to different width as customer's requirement).
Package: 100 kgs ±5 per roll.
Thermal Class: E (120℃)
Standard: IEC60674-3-2:1992
Related Product
Hot Product
Product Categories
Company News