DDP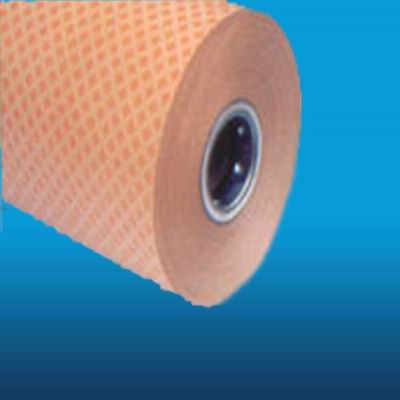 Description:
DIAMOND PATTERN PAPER,DIAMOND DOTTED INSULATING PRESSPAPER,DPP.DOUBLE SIDED DIAMOND PATTERN PAPER, DDPP, DPRCP,DIAMOND PATTERN RESIN COATED PAPER,VARNISHED PAPER EPOXY ADHESIVE DIAMOND PAPE.ETC.
DIMENSIONS:
THICKNESS (mm) : 0.08,0.13 ,0.18, 0.25, 0.38 ,0.50
WIDTH (mm) : 500, 625, 810, 960, 1000,1100,1219,1300
The Diamond Dotted Paper to be used in oil immersed transformers, for coil insulation
Diamond pattern paper made of Kraft paper coated with heat curable epoxy resin.The epoxy adhesive is applied to both sides of the paper in a diamond pattern consisting of 9.5mm x9.5mm diamonds with 15.9mm center spacing.
We specialize in manufacturing professional insulation material for oil-immersion transformers¡ªDIAMOND DOTTED PAPER. With our reliable quality, 12-year manufacturing experience and continuously innovated and improved processing, we succeeded in enabling our DIAMOND DOTTED PAPER to meet the exporting requirements in 2002. After entering the international market, we successively broke into tens of countries and regions such as Taiwan, Korea, Iraq, Cuba, Bangladesh, Vietnam, Indonesia, Malaysia, Uruguay, Venezuela, Brazil, South Africa, etc., with our leading product-DIAMOND DOTTED PAPER (also named as DIAMOND PATTERN PAPER, DIAMOND DOTTED INSULATING PRESSPAPER, DPP, DOUBLE SIDED DIAMOND PATTERN PAPER, DDPP, DPRCP, etc.). The exporting volume increases by 30% every year.
As one of the biggest DIAMOND DOTTED PAPER (DDP)exporter in China, we export over 95% of the current major products, The Diamond dotted Paper is to be used in oil-immersed transformers for the insulation between of coils. On the insulation layer, there is a layer dotted epoxy resin that will be changed with high temperature change that is to be called as felt.
It is a kind of material with inertia, dry and no conglutination at normal temperature (below 30¡æ), The Diamond Dotted Paper (DDP)will make the electric conductor forever felt up as a hard unit under the high temperature by its internal latency substance. When the temperature is rising up to 90¡æ, The Diamond Pattern Paper (DDP)begins one-off thaw and then one-off solidification. When to keep the temperature at 90¡æ for 90 minutes, the epoxy resin would paste on neighboring cable and paper safely. The felt intensity is as high as to 70psl at 100¡æ.(The value at least is equal to 0.450Mpa) (IEC standard).
Related Product
Hot Product
Product Categories
Company News